KEF Media is one of the largest broadcast and digital public relations firms in the Southeast. Check out our case studies to see what sets us apart.
We work with every major public relations agency in North America as well as Fortune 500 corporations.
KEF Media started in 1986 in Chicago by Kevin Foley, who had successful stints in public relations account management with two industry giants, Burson-Marsteller and Ketchum.
While working in Ketchum's Chicago office, Kevin realized the potential for video news releases just as they were coming into vogue as a PR tactic. Discovering there were no firms in the Windy City specializing in the production and placement of VNRs and knowing how many PR firms had offices in Chicago, Kevin opened his shop with one employee, initially working out of an editing studio owned by an associate.
His background as a PR agency account manager gave Kevin special insight into what it was his agency and corporate clients needed. Within a couple of months, KEF Media moved to its own offices at Institute Place in the city's River North neighborhood. There, Kevin and a growing staff focused on delivering results that matter.
Kevin had worked for a client at the 1984 Winter Olympics in Sarajevo, Yugoslavia and the opportunity to return to the Olympics for Coca-Cola and FedEx presented itself in 1988. Kevin and his production team journeyed to Calgary, Alberta, Canada where they produced a number of VNRs throughout the Winter Games there.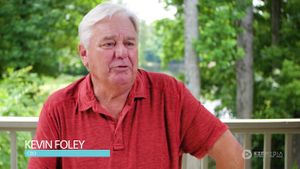 Satellite media tours were becoming a popular publicity tactic in the early 1990s and KEF Media followed that trend with the same emphasis on producing solid results on time and on budget. The company's commitment to growing long-term relationships began to bear fruit as the firm received repeat assignments from multiple agency and corporate clients.
KEF Media's reputation for Olympic know-how generated considerable business at the 1992 Summer Games in Barcelona, Spain. Shortly after that experience, Kevin and his family moved to Atlanta, host city of the 1996 Summer Olympic Games, where he set up shop. By 1997, all of the company's operations had transitioned to Atlanta.
KEF Media was retained by the U.S. Postal Service in 1998 to produce video news releases for its historic Celebrate the Century marketing campaign, which kicked off with the KEF Media team producing and placing 30 VNRs in 30 consecutive days. In 2002, the KEF Media team took to the road with the Salt Lake City Olympic Torch relay, during which it produced and distributed B-roll for relay sponsors Coca-Cola and Chevrolet over two months.
KEF Media had several homes around Atlanta before moving permanently in 2012 to a 10,000 sq. ft. building Kevin purchased in Smyrna, just outside the Atlanta city limits.
The company is leading the way in integrating digital and social media services into traditional television and radio broadcast services. Today, KEF Media has more than 30 dedicated television, radio, print and digital professionals working on a wide variety of projects from most all of the leading public relations agency and major brands including Kellogg's, Heineken, Symantec, Liberty Mutual, Viking Cruises, Bank of America, Nestle, Disney, Mattel, DreamWorks, American Red Cross, CARE, DeVry, Orkin, Expedia, Hilton, Purina, Petco, and Amazon.
Our team has traveled North America and the world, producing award-winning work for top Olympic sponsors in Atlanta, Salt Lake City, Athens, Torino, Beijing, London, and most recently, Sochi, Russia. KEF Media's international expertise has also led to projects in Korea, South Africa, Japan, Australia, Brazil, Iraq and numerous European countries. We even produced a successful satellite media tour with a blind mountain climber scaling Mt. Everest and we've worked with countless celebrities representing entertainment, sports and lifestyle.