Virtual Media Tours are here to stay. VMTs use Skype or Zoom to connect a spokesperson to media around the world. Here are some key learnings and tips for a successful Virtual Media Tour.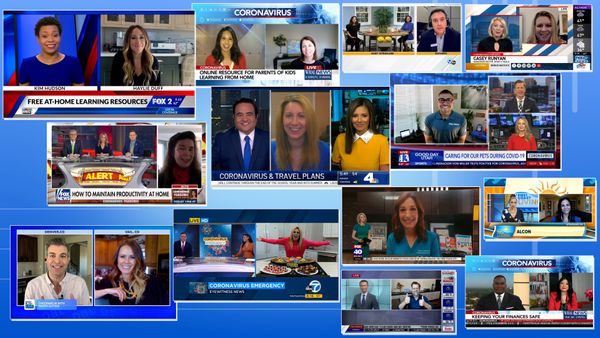 When the world changed during the COVID-19 pandemic, we saw an extraordinary shift in our broadcast public relations industry, and quickly learned that PR had a whole new meaning: Pivot Rapidly. Within days of the shutdown in March 2020, many clients postponed and/or canceled long-planned Satellite Media Tours (SMT) and Customized Media Days (CMD) in rapid succession. We had to quickly digest that information and its impact on our company, and figure out a new way forward. At the same time, we had an equal number of media outlets reach out desperate for quality content. News producers and reporters were, many for the first time, working from home and needed stories with unique perspectives surrounding the pandemic AND many needed to be able to conduct and record the segments from home. There was still a need, and we quickly developed a new tactic: Virtual Media Tours.
Within two days of taking our company remote and several days before mandatory stay-at-home orders, we developed, tested and started marketing our Virtual Media Tours (VMT.) VMTs work much like SMTs with back-to-back interviews. We handle all the bookings, technical elements and follow-up/reporting. The key difference is interviews are conducted using a mixture of Skype, Zoom and satellite with a spokesperson at home. The spokesperson simply connects with our studio using Skype and we do the rest. Our clients watch everything via a virtual green room livestream so they can provide real-time feedback to the spokesperson.
Producing interviews via Skype and Zoom isn't a new concept – we typically have a few on each media tour. But producing a full morning of 20-25+ interviews back-to-back in rapid succession with crew and clients spread out over five or more states has quickly become a game-changer for not only our company but for clients and media contacts.
If you are considering a VMT, here are three tips to keep in mind:
Be flexible with timing. Rather than limit your VMT to a 4-5 hour time frame, make your spokesperson available throughout the day (or across several days) to accommodate various media outlets.
Do several tech tests with your spokesperson to ensure proper internet speed and to work out an optimal background, best lighting and make sure the picture and audio are clean.
Now, more than ever, provide solid 'news you can use.' In addition to stories about online shopping/scams, protecting your money and medical-related topics, we continue to see lifestyle tours about home schooling, entertaining kids, unique recipes, etc. work very well.
While we may soon be able to travel and head back to our offices, we don't anticipate everything going back to the pre-Covid-19 days. And while we hope to get back to our professional videography, hair and make-up artists and beautiful locations, the ease and convenience of conducting interviews quickly from any location is likely going to be an ongoing part of our PR lives moving forward. We are thrilled to have been among the first to offer this new tactic and would love to help you with your broadcast communications. Please let us know if you have a potential tour you want to discuss. Brainstorming is always free and we are ready when you are!