Do you have a celebrity, sports icon or household name available as the spokesperson for your campaign?
Utilize their cachet by upgrading your media tour to a Customized Media Day (CMD)!
This tactic is ideal for clients with five or more media hours of celebrity time.
Take your talent in-studio to conduct the live television interviews. Next? How about a sit-down with a major online publication who wants to live stream the conversation? Then, let's do a 2 or 3 hour satellite media tour to reach local TV stations across the country. Wrap up the day with more high level online publications coming onsite to interview your A-Lister. The day's schedule is customized to your needs.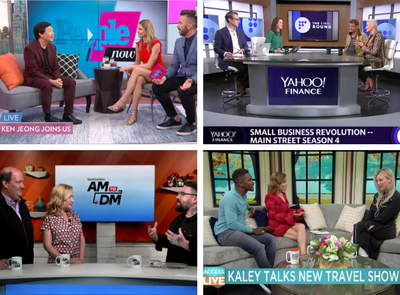 These CMDs work best in New York or LA, but can be done almost anywhere. Yes, we even pulled one off at Yellowstone National Park!
Questions about whether or not your campaign is right for this tactic? Call us so we can brainstorm all the customizable possibilities.
You have a bilingual spokesperson capable of resonating with a Spanish-speaking audience? Let us help you reach your desired Spanish-Language Media targets.